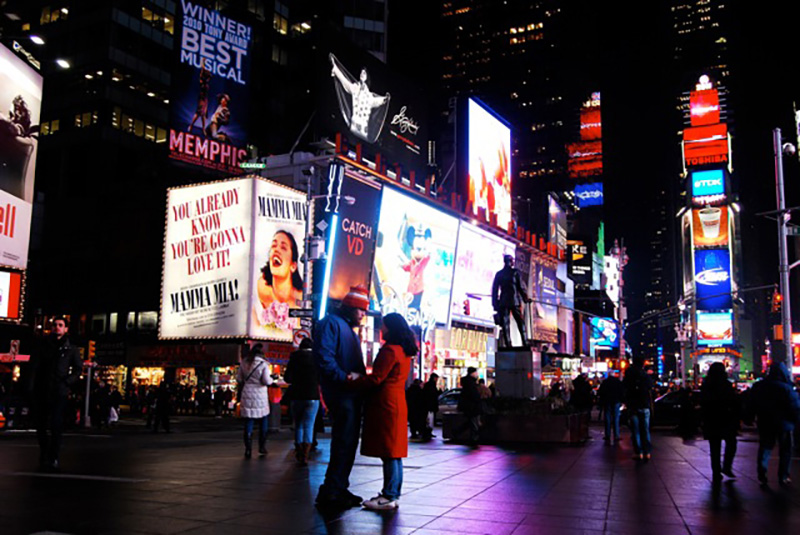 An interview with flower artist Ellie Grace living in New York, talking about her flower arrangement and her life style.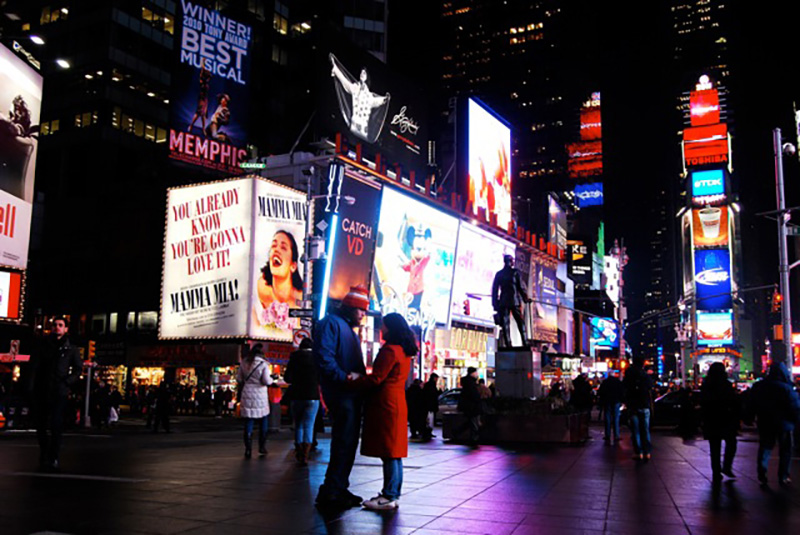 — Valentine's Day is just around the corner; what is the tradition in the States?
(Ellie)Valentine's Day in the United States is celebrated very differently than in Japan.
In Japan the tradition is for the woman to present a chocolate to the man as she confesses her love to him; in the States, it is mainly the man's responsibility to express his love to the woman, and any gift is acceptable although the most popular is a dozen red roses along with dinner in a nice romantic restaurant
On Valentine's Day, every restaurant is filled with reservations by couples. The restaurants set a romantic mood with candle light. Don't walk into a nice restaurant in New York City by yourself on Valentine's Day – you won't find a seat!
A fun tradition practiced by some on Valentine's Day is when the man orders flowers and surprises his wife or girlfriend by sending it to her office for everyone to see. All the other ladies in the office would look to her with such admiration (and maybe even jealousy!!). The best flower choice to pull off this trick would be a dozen of the long stem (stem length 90 cm) red roses. It is absolutely gorgeous, but quite expensive!
Chocolates are also very popular, as you would expect.
This day is also one where you can show appreciation to your peers – the people that take care of you on a day-to-day basis, people like your friends or your boss or your landlord. Little gifts like cookies or chocolates are usually appreciated for the occasion.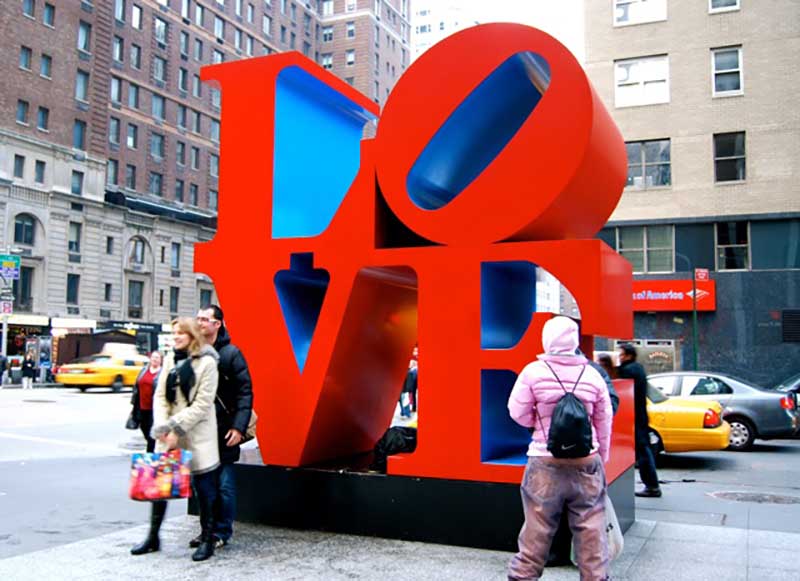 Starting a flower arrangement class in New York
— So the location of your school is in the middle of New York City?
(Ellie) The place I rent out for my classes is the "Japanese American Association of NY" office that has a hundred years of history in New York. It is located right smack in the middle of Manhattan, 5 minutes away from Grand Central Station, so it is a very easy place for students to get to from anywhere, not only from within the five boroughs of New York City but even from Long Island, Connecticut, and New Jersey. The students who live the farthest probably travel anywhere between an hour and two.
— I heard that you originally used to practice the traditional Japanese tea ceremonies and Ikebana; did that have a lot of influence on getting involved in the Western style of flower arrangements?
(Ellie) I first found myself interested in flower arrangements when I read an article by the late Ms. Mieko Takamine in a women's magazine. It said "the best way to light up a room is with live flowers."
She didn't put anything else in the room.
The magazine had features some of her wonderful arrangements and I was very intrigued and immediately hooked.
And, believe it or not, I found my inspiration to start teaching flower arrangements after reading Slam Dunk, by Mr. Takehiko Inoue.

— Slam Dunk, the Japanese comic series? It's a story about high school basketball – There aren't any flower arrangement scenes or anything, is there?
(Ellie) My two sons were the ones that were hooked on the series and I was basically taking the books out of their hands since I couldn't put them down.
I was really moved by how the main character, starting as a freshman in high school knowing absolutely nothing about basketball, falling in love with it and putting everything he has into it.
I realized that I had never experienced that kind of passion for a job or an activity.
I was inspired, not only by the comic series but by supportive friends and family, and from there I committed myself to learning the art and eventually got my teaching certificate.
My first class was at home, setting up some tables in my living room.
— So that's how you got involved in this business.
I have taken a look at your "Wellness Factory" homepage; you also seem to be active in the health and beauty industry.
(Ellie) So you've taken a look at my anti-aging site – thank you!
"Wellness Factory" deals with a lot of beauty and health related products, but it originated from my belief that having a good self-image will promote better health and beauty.
The theme here is, "staying young and lively at heart" with everything related to life. In that sense, I believe that arranging flowers also leads to rejuvenation and anti-aging.
— Anti-aging effects from flower arrangements! ! It is interesting.
(Ellie) When you have good self-image, it affects your actions and facial expressions. Not only that, but even my skin feels healthier when I have a good state of mind.
Because I feel younger when I maintain positive energy, I wanted to share that belief with everyone and set up the website hoping that it resonates with the people that visit it.
The motto is, "make your dreams come true with positive thinking!"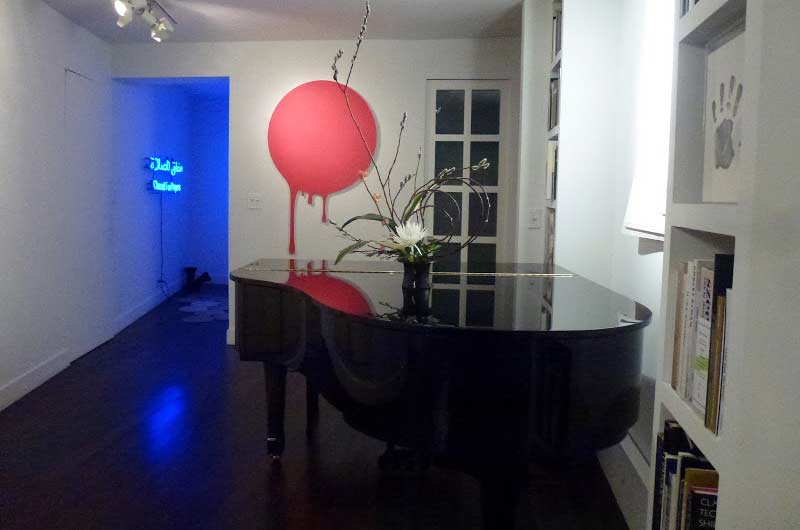 Interchange beyond the "racial consciousness"
— How do you perceive the Japanese sense of art and beauty as a New Yorker?
(Ellie) Just looking at the flower culture in Japan, I get the impression that Japan likes "cute" arrangements, whereas the perception of "New York" art is grand and gorgeous. Japanese are very crafty with their art as well.
Looking at beauty and fashion in Japan, sometimes there are certain trends that become popular – like the "Gan-Guro" look of teenage girls a few years back or the "Cos-play" looks… I would imagine that even in New York City where anything goes, those looks wouldn't be very well accepted.
But the traditional forms of Japanese art is something very attractive from outside cultures. The use of different colors – especially the combination of unique colors such as indigo or scarlet – for kimonos is an example of the artistic sense that the Japanese culture possesses, and I am very proud of that.
— Upon working in the States, do you feel a certain expectation to include something Japanese in your artwork?
(Ellie) New York is such a melting pot of cultures and different types of people that things go beyond race; you start seeing people for who they are, not what they are. I take interest in the individual, not where they come from.
Contemporary art flourishes in New York, and the Ikebana style flower arrangements are very popular. It is a traditional art but mashing that up with modern art is seen as innovative.
As an instructor of the "Sogetsu" style Ikebana, the more modern art that I can mix in with my arrangements the better the reception from the audience. One thing I like to do is to utilize seasonal flowers and plants effectively in anticipation for the upcoming season. This taste is very popular and well accepted.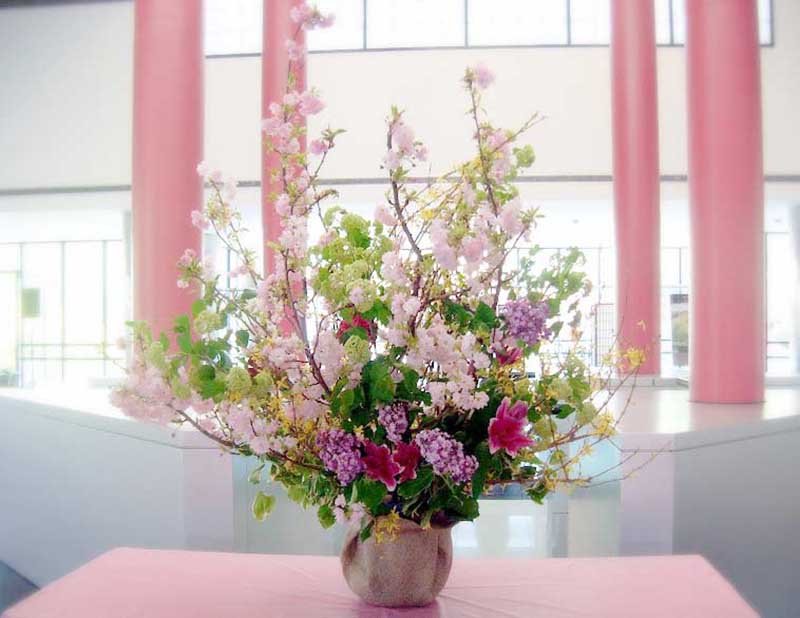 — This "anticipation of the seasons" – is it something that exists in the American culture? For example, February 4 is the first day of spring in the Japanese calendar. Although it is the coldest time of the year temperature-wise, you can't help but to feel that spring is right around the corner. I have always felt this was neat, how this was structured into our calendar, but is there a culture like this in America?
(Ellie) With Japanese Ikebana there is a tradition to use seasonal flowers in each of the four seasons. We introduce them early to "bring in" the coming season, and hopefully people will feel joy in seeing how those arrangements represent the different seasons.
Arrangements with cherry blossoms in the spring or fall foliage are wonderful ways to accent the room as the seasons turn.
In the States the most common expressions to describe the turn of seasons may be something like, "the days are getting longer, summer is around the corner" or, "I get to sleep in, the clock is turning back an hour!"
But in each season, Americans do celebrate some fun holidays. Halloween in October with orange in every decoration (for pumpkins), Christmas in December decorated with green and red everywhere…
What's neat is the decorations are literally everywhere! Inside the house, outside the house, on your car, you name it! Americans may focus more on color contrasts whereas Japanese art focuses on being seasonal.
— Please tell us about your future goals.
(Ellie) I will admit I am the ultimate optimist; you can't keep me down for long. I feel a responsibility towards brightening up the moods of the people around me. A part of my given name stands for "Grace" (and thus is part of my professional name), so I hope to live up to the name and spread grace and joy to my peers.
I want to continue following my heart – what excites me, what makes me feel happy – and do those things to the best of my ability. I want to continue broadening my network around both flowers and wellness, and really expanding them globally. And above all, I have to take advantage of the fact that I live in New York City, the Capital of the World, as well as my English, to keep growing in these areas.
— I really enjoyed talking with you. Thank you.
Ellie Grace
Born in Miyagi Prefecture. Living in NY.
The New York Botanical Garden Floral Design graduate (NY)
School of Floral Arts graduate (NJ)
Sogetsu teacher (Second degree Jonin-sanyo)
~ NY flower arrangement school started in March 1999.
Appeared in the TV Japan network in the US; Floral Arts School featured in "Mrs. Magazine" in Japan
Warning
: Invalid argument supplied for foreach() in
/home/creatio777/creatio.jp/public_html/wp-content/plugins/sitepress-multilingual-cms/classes/query-filtering/class-wpml-query-parser.php
on line
554